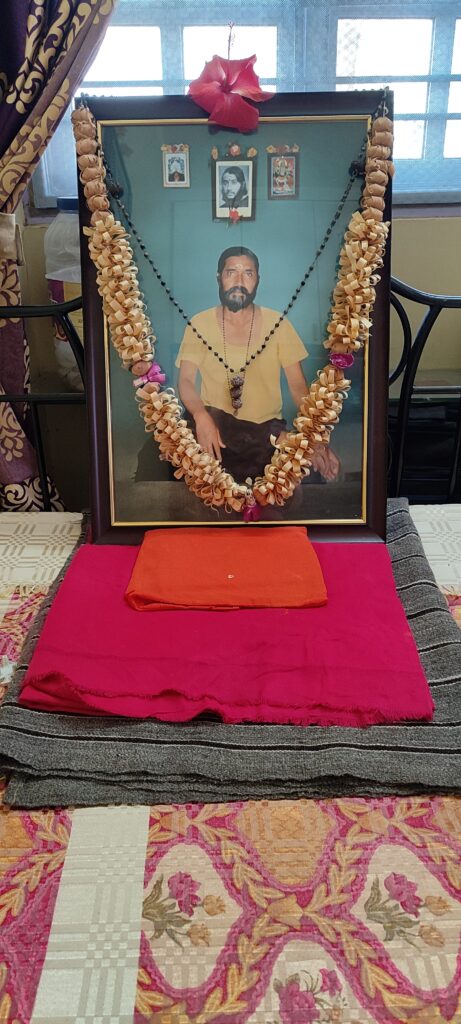 We had one of the Bhagavan's devotees, Vidya Phadnis, from Belgaum coming to our Ashram for Dhyana. As Swamyji enquired her regarding her Sadhanapath (Path of Sadhana), she spoke about how the sparks of spirituality had started since her childhood itself, leading her, later in life, to her Guru, Poojya Vasant Rao Lakshman Rao Patil, Patil Mama, as she called him.
We were surprised to hear the spiritual sojourn of Poojya Patil Mama from her that Bhagavan Nityananda was His Guru! As she unraveled more of it, we were awestruck by the mysterious ways Bhagavan worked. She said "Patil Mama hailing from Yellur, Belgaum, was inclined towards spirituality from his younger years itself. He abandoned his home at the tender age of 12 and started wandering throughout India on a spiritual quest. During his travel as he came across Bhagavan in Ganeshpuri, He was enraptured by the enigmatic divine stature of Bhagavan. Once seized by overwhelming devotion, he kicked the door of the room where Bhagavan sat, as he was denied the Darshan. Bhagavan turned towards Him laughing with His hands in a blessing gesture, the entire room was filled with a rare kind of joy. Receiving the blessings of Bhagavan, Patil Mama proceeded as per Bhagavan's instructions in Sadhana, which he performed diligently. Patil Mama was also closely associated with Poojya Janananda Swamy and quite often traveled to Kanhangad to meditate in the caves under His guidance. Janananda Swamy was so fond of Patil Mama that once he traveled all the way by flight to Belgaum to meet Patil Mama. Excited Patil Mama told everyone about Janananda Swamy's arrival, and went with his neighbors, companions, and a friend to Sambra Airport. But Janananda Swamy said that he was there to only meet Patil Mama and he would not visit his home as he had to return from there itself. Patil Mama and his friend spent some time with Janananda Swamy when Janananda Swamy imparted certain spiritual guidance and instructions which was not revealed to others.
After the MahaSamadhi of Bhagavan Nityananda, Patil Mama saw some kind of divine light sparkling in the head, which transformed his ways where he was found to be in the raptured states mostly, which was not understood by the caretakers around who assumed either he was mad or under some evil spell, thus started employing their known remedies for it. But nothing could relieve him from what he was through. After around six months of the Mahasamadhi of Bhagawan, they received a letter from Janananda Swamy addressed to Patil Mama and astonishingly, it was signed as Nityananda! Which gave further instructions to Patil Mama to proceed in the spiritual path. In the letter, Bhagavan had ordered Patil Mama to visit Datta Bal Swami in Kolhapur who is the 108th of Avatar of Datta Bhagavan, and receive Diksha and guidance from him. He left for Kolhapur immediately, received Diksha from Datta Bal Swami, and undertook severe penance residing in a forest near Shandilya Ashram, Londa for almost 11 years. "
The surprising fact is that there is a mysterious connection between Shandilya Maharaj and Bhagavan Nityananda. One day Bhagavan Nityananda in Ganeshpuri stood up saying ' Shandilya Maharaj Samadhi Jeernoddhar (renovation) has to be done in Gokarna', walked out of the old Bal Bhojan room and disappeared into thin air in no time, but at the same time, he appeared in Gokarna and guided the construction of the Samadhi Mandir near the Ramtirtha lake step by step. He was there itself till the final stages of construction work. And Bevinkoppa Ashram shares a strange connection with it that the descendants of Shandilya Maharaj (whom they address as Sandoli Maharaj) stay near to our Ashram who runs a grocery shop (named Madiwala Angadi) whence our essentials come.
As I was hearing this letter incident from her, the event of the Mahasamadhi of Bhagawan Nityananda, described by Pujya Swamy Vijayananda in Avadhoota Bhagawan Nityananda, flashed before me. When Janananda Swamy reaches Ganeshpuri after Bhagawan's Samadhi, people cry 'Bhagawan is gone', Janananda Swamy roared saying 'who says Bhagawan has left this world? It was Janananda who attained samadhi. Bhagawan is present right here in this moment. Undoubtingly the letter and Bhagawan's name on it is the testimony to this incident. The Love of a Guru for His disciples is so unparalleled that He only reaches out to the disciples when they need it, even after the body has gone, they continue to work mysteriously. This also reminds of the incident Swamyji often talks about, when Pujya Siddharudha Swamy was to take samadhi, He said, pointing towards His ardent disciple Pujya Gurunatharudha Swamy 'I am leaving this home and entering that home'. Only when Mahatmas as Swamyji guide us by deciphering these cryptic messages, then we understand the hidden treasures of wisdom in those words. Vidyaji also quoted a similar incident of Brahma Chaitanya Maharaj of Gondavali working through his disciple Tatya Saeb Katkar for almost 35 years after His Samadhi. Again and again, it puts me into deep thought/feeling, and my heart explodes in joy, that love of a Guru for His disciple is inimitable, supreme, unsurpassed. If at all a disciple has any devotion or love for His Guru, it's truly the Love of the Guru itself reflecting in the heart of the disciple flowing into him as His Grace.
Vidyaji continued "He got married to a pious lady, Pujya Sunanda Thayi, from a devoted family around 1967. He has a son and daughter. Once when He was in penance, Maa Gayatri, whom he worshipped, appeared and said you will have a daughter of My ansh (essence).' But this is unlike a worldly family that we see. Patil Mama was always in forests immersed in Sadhana, the wife raised children and they were all supportive to Patil Mama in His sadhana. They did great Seva of Him amidst many challenges and struggles till He attained Samadhi on 12th May 2021 at his 90s"
I felt transported elsewhere listening to all these mystical plays of Bhagawan. Swamyji made plans of visiting Patil Mama's home in Belgaum immediately and in three days we were already there. We met Sunanda Thayi, meditated in his room for a while, and then left. All these events felt truly magical, a devotee from nowhere coming to our ashram, and without any intention in her talks the mysteries of Bhagavan unraveling, and we visiting the place almost immediately! It makes me wonder how many more such divine gems Bhagavan has prepared and where they could be! By the Grace of Pujya Vijayananda Swamyji, today we all could be part of such ocean of infinite bliss, Nityananda, which he made easily accessible to all by unraveling us the Nitya Tattva of Bhagawan that Nityananda is not the body but Tattva!
Here I end this beautiful bunch of divinity with immense love and surrenderness to Bhagawan Nityananda, Poojya Janananda Swamy, Poojya Swamy Vijayananda, Poojya Patil Mama, and the One Guru Shakti. Love and gratitude to Sunanda Thayi, Vidyaji, and her son Kaustab for giving us all the required information and taking us to Patil Mama's Divya Sannidhi (divine presence).
Om Namo Bhagavate Nityanandaya!
Ramya Poojari
Nityananda Dhyana Mandir
Bevinkoppa