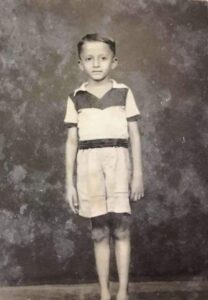 Swami Vijayananda was born in Majeshwar, Karnataka, India in 1950 in a wealthy family. Twenty-three years before his birth, Bhagwan Nityananda had visited his home to meet his grandfather, who was a devotee of Bhagwan. He used to sit on a chair in Swamiji's home, that is even now preserved. These gestures of Bhagwan marked significance into this family.
Swamiji's childhood passed in his many opportunities of meeting saints and holy men who often were guests to his home, whom his mother very fondly served food. Swamiji had an inclination towards spirituality as well as drama and music. This made him pursue acting in drama in his village that was disliked by his father. During this period, Swamiji came across bad company and even fell into their habits of drinking, which was probably a part of his prarabdh of this lifetime. His life has always been an open book in which he has narrated all about these and his journeys, during which he faced number of obstacles, pitfalls and even rose with his own spiritual efforts, sadhana, grace of saints and his Masters. His life gives an insight for sadhakas that the path of spirituality is not a rosy path and one is often tested in every way before he ascends a step higher to existing state.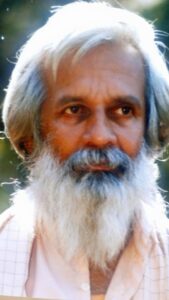 Due to various reasons, Swamiji had to leave home at an early age. Then, began his wanderings in spiritual pursuits. After meeting a number of saints and though being from a wealthy family, he chose to be penniless. Striving to be a sanyasi, he met a number of evolved people throughout multiple places in Karnataka, whom all he treated as his Guru. He met his Guru in Sogal, Avdhoot Ajja, who lived in the caves. As destiny had it, Avdhoot Ajja's Guru had taken initiation from Bhagwan Nityananda. He served him day and night for close to two years, the details of which he has written in his book "Secrets of Shaktipath". He witnessed almost everyday the miracles of his Guru. From there, he wandered and met a Swami, who was again a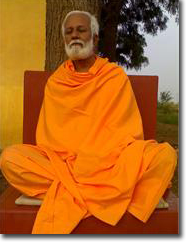 devotee of Bhagwan Nityananda and had an ashram in Mallur, in which he lived for more than 20 years in sadhana. Swamiji was pleasantly surprised when this holy man handed over his cottage to him. Here, Swamiji lived for close to two years and had many mystical experiences, many of which proved to him the protection that he had from the Divine. This area was a graveyard ground, and thus was a place inhabited by spirits. He often had trouble from them in many ways but the holy man's grace and the grace of Bhagwan Nityananda always protected him. This he realized only later. He taught little children here and lived in scarcity, mostly depending on people for food. Still, he managed to prepare tea for the children.
Later, on being troubled by certain elements around, he left this place and went to Madlur where one night shivering in Typhoid and taking shelter in a temple, the Divine Mother's two hands kept him lifted from the wet watery surfaces from rain. From here, he wandered to this place called Bevinkoppa (where ashram is situated). Here, he took shelter at a very ancient Mallikarjun temple that was established by Sumedha Muni and was also the tapas and samadhi place of many rishis. One night he had a blinding experience of seeing bright light in the dead of the night similar to thousands of tube-lights. He only had a photo of Bhagwan Nityananda as his possession and his daily activity was only chanting "Om Namo Bhagavathey Nityanadaya" and that was only his sadhana.
One day a man who had piles, on seeing a bearded monk approached him and asked him for a solution, to which Swamiji gave a little bhasm to not offend the man to his approach. The man was cured and soon the word spread. Soon, he had people coming to him. Swamiji had knowledge of Ayurveda and he began helping people in his best way with this knowledge and by prayers to Bhagwan. Many people hugely benefited from his presence and they soon began making a hut for him to be comfortable. Living in this hut and on food that was given to him by the villagers, he slowly built up this ashram, which was finally founded by the name "Anandashram, Bevinkoppa" in 2001.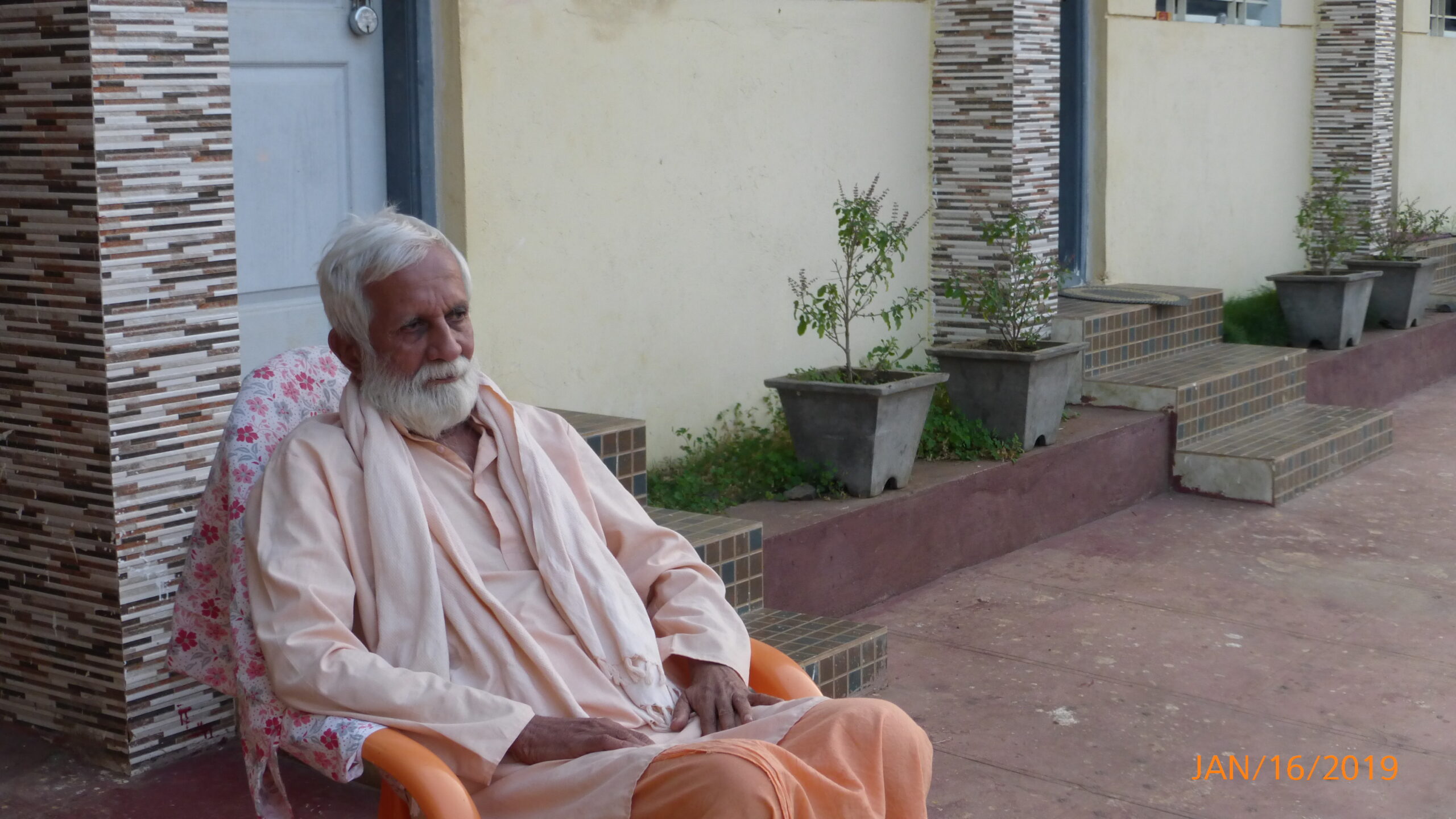 Swamiji lives a very simple modest life and looks after the welfare of the little children who live in the ashram that he nourishes by providing them food, education and other needs. These children as so poor that their family cannot provide them with support systems. Such children do their seva in the ashram and are blessed with the opportunity to learn the spiritual and wordly experiences of life closely. It has been observed that everything around Swamiji just cropped up and keeps cropping up depending on the needs of the ashram. Swamiji has been doing great service in this place through regular bal bhojans, yagnas, pujas and also through many charitable deeds like providing homes to the poor, arranging marriages for the poor, donating cows, donating needy materials to school like chairs, books, umbrellas, raincoats, school bags, toys, etc.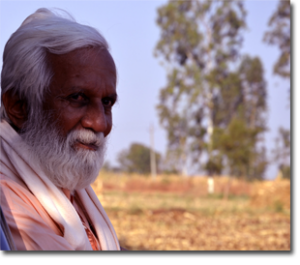 Swamiji throughout his life has been involved in dramatics, music, singing, writing, teaching apart from the social activities he carries out for the welfare of others. He has written 10 books in Kannada, all of which revolve around the life and teachings of Bhagwan Nityananda; two of these books have been translated recently in English – "Avdhoot Bhagwan Nityananda" and "Secrets of Shaktipath". He has also written songs and produced sound tracks for 10 albums in Kannada and 1 of Universal.
Swamiji has been known for his straight-forwardness and abiding by ways of truthful and ethical living. He preaches by practice of service and says that knowing or preaching about service is void until you actually do it yourself.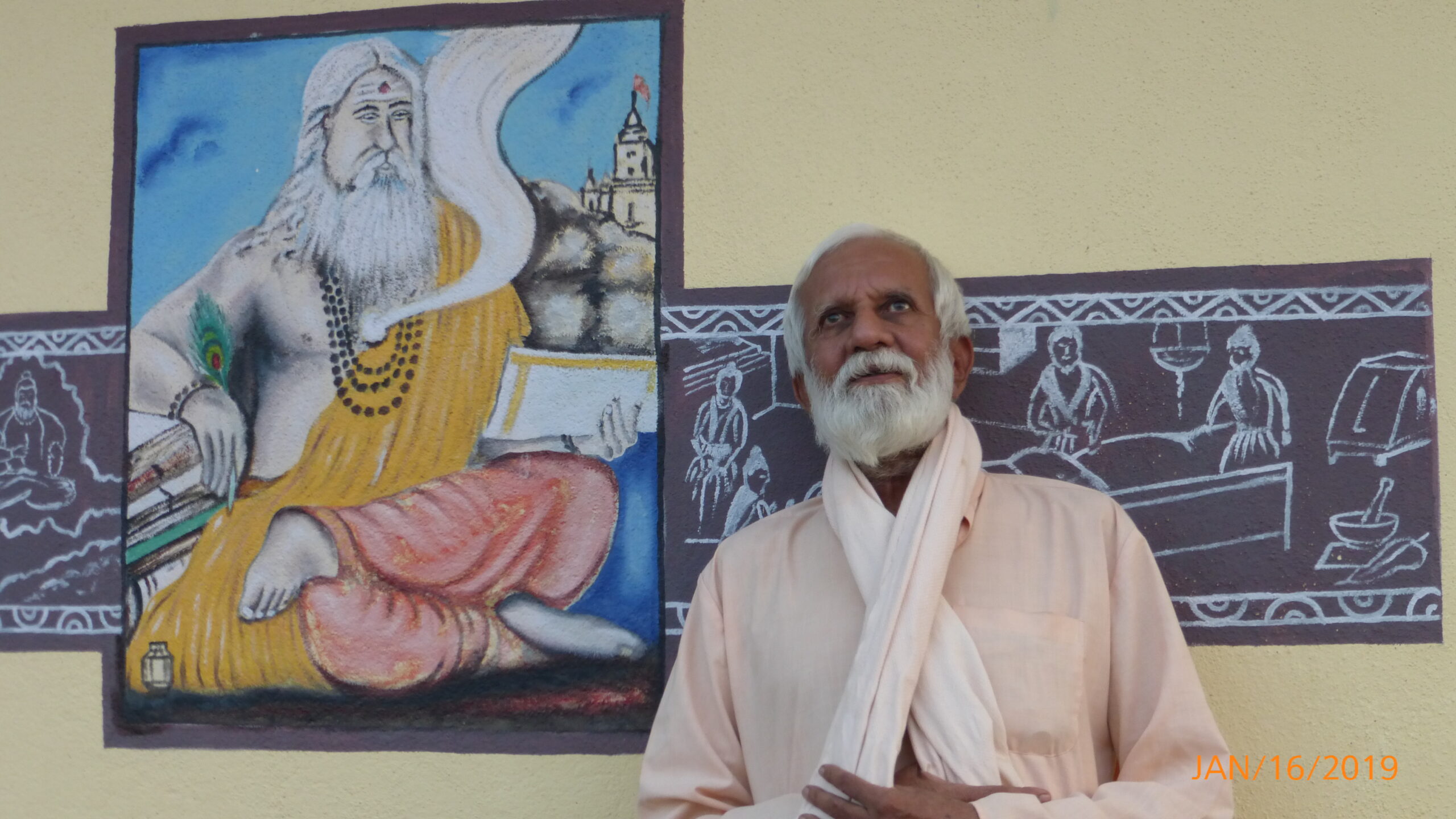 Swamiji has been an embodiment of Guru bhakti and lives totally in thoughts, words and deeds of Bhagwan Nityananda. He holds a very high stature for Tulasi Amma, the foremost disciple of Bhagwan, who played a great role in bringing the sayings of Bhagwan through her book Chidakasha Geeta. Her huge photo is adorned in the ashram eating place.
Swamiji is a walking encyclopedia in almost all the matters of life and holds a wide information about almost all the holy people associated with Bhagwan Nityananda, most of who are unknown to the world. His life has always brought him to people associated with Bhagwan some or the other way. He has met and lived with many Mahatmas and saints, which makes his experiences with them direct and also the reason of holding large information about them.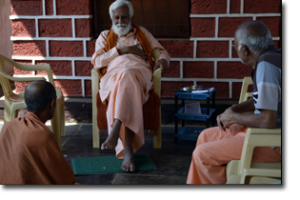 Swamiji meets all who come to his ashram and has no specifics when it comes to sitting with all and even eating with visitors, sitting on the floor with them. His humble approach often misguides people about his valid presence in the world of spirituality and the major role he plays in Bhagwan Nityananda's visions. Stressing equality among all races and religion and castes, right from day one, Swamiji has made the processes of working open to the ashramites, ensuring that every ashram child gets to perform arati of Bhagwan twice a day and also everybody is eligible to touch the holy padukas at the altar. He stresses that Bhagwan had taken the human form to bring all together and not to make more rules, reservations and distinctions among people and their practices.
Swamiji has many devotees from all over the world, who have also received initiation from him. Many devotees have been visiting the ashram since decades and continue to reserve a few days every year to visit and stay at the ashram with Swamiji.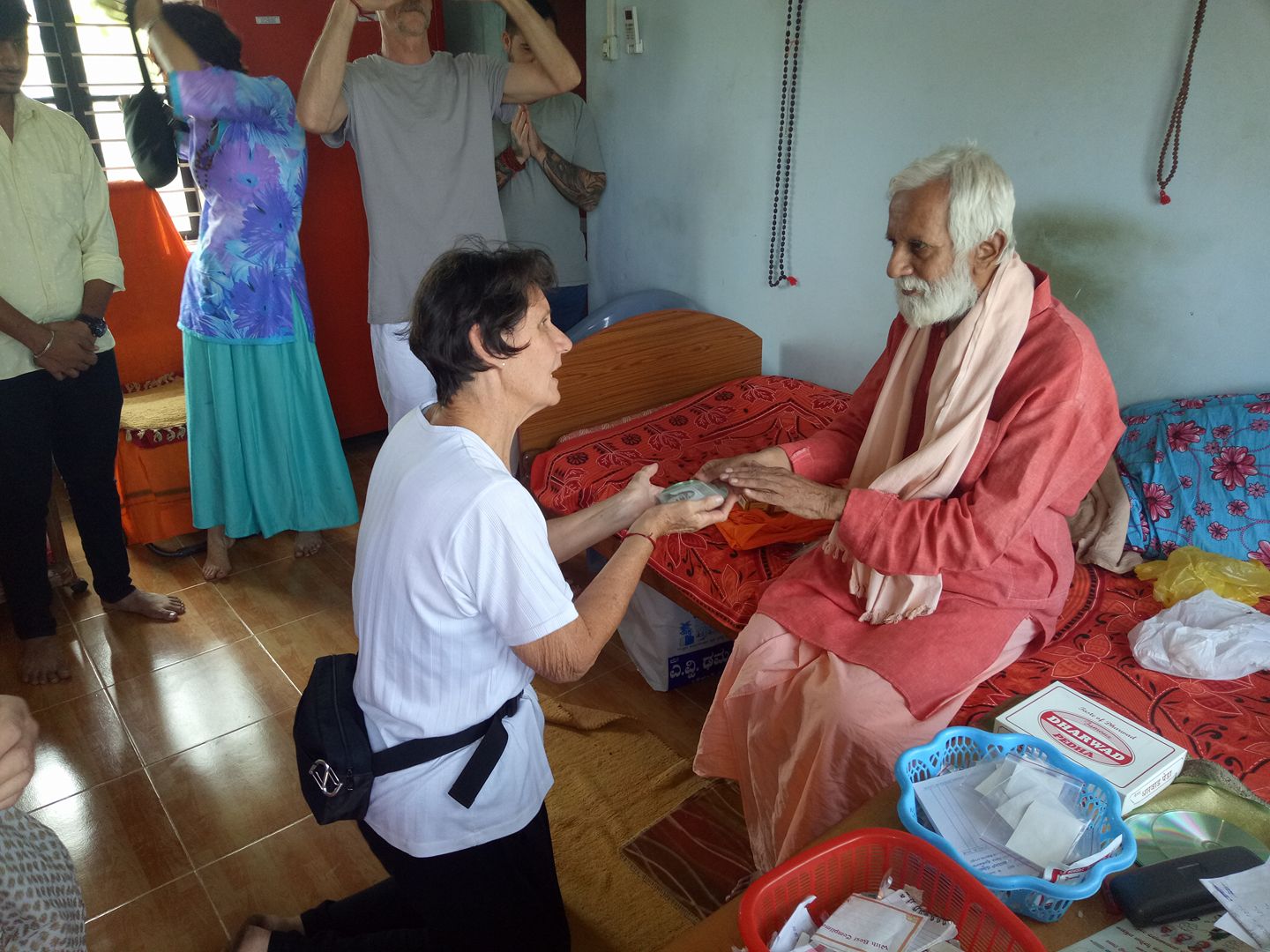 Equally fond of children, he can be seen mostly with little children, encouraging them in their studies and guiding them in life and dealing with them in the same innocence.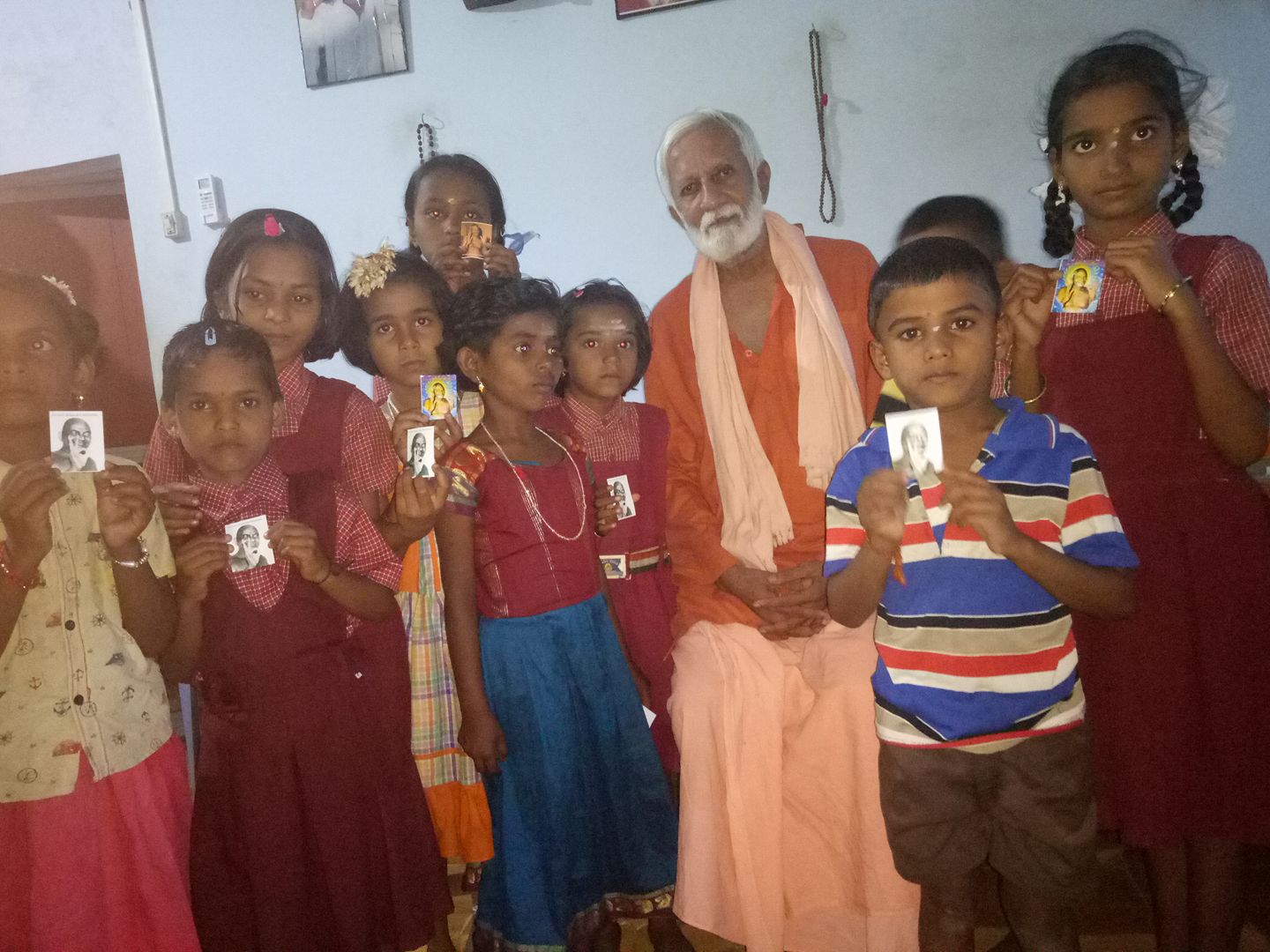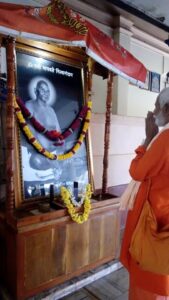 Swamiji equally takes care of his ashram children, the animals, the snakes, the visitors and villagers' concerns and takes great satisfaction in living for others in the dedication and love for His Guru and God – Bhagwan Nityananda. His whole life he has been spreading the teachings of Bhagwan Nityananda through his various activities including composing, singing and producing audio CDs of Bhagwan and writing dozens of books.
Om Namo Bhagawathey Nityanandaya
You may also like to see ~
PHOTOS OF SWAMIJI | VISITORS TO THE ASHRAM | THE LINEAGE | PARABRAHMA NITYANANDA