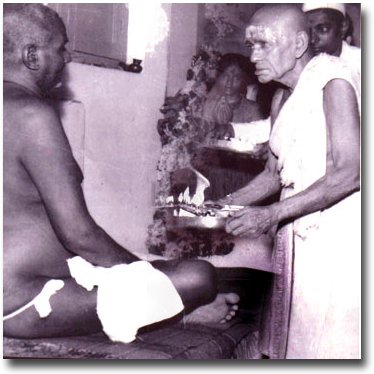 Nityananda Arati of Ganeshpuri
Language: Marathi
Jay Jay Aarati Nityananda (2x)
Saguna Rupi Govinda (2x)
Jay Jay Aarati Nityananda (2x)
Pratham Datta Rupa Gheshi (2x)
Dwitiya Shripada Hoshi (2x)
Tritiya Narahari Hoshi (2x)
Ganagapuri Lilaa Daavishi (2x)
First You took form of Dattatrey. Secondly you became Shripada ( Shripada Shri Valabha, the second (Avatara) incarnation of Lord Datta). Third you became Narahari (Shri Nurshimha Sarawati he is third incarnation, who spent 23 years in Ganagapur, and did his lilaas for uplifting seekers.) You showed your lilaas (play of Shakti) in Ganagapur.
Maanik Prabhu Tu Hoshi (2x)
Akkalkot Swami Hoshi (2x)
Shiradi Sai Nath Hoshi (2x)
Shiradi Sai Nath Hoshi (2x)
Kali Yugi Nityananda Banashi (2x)
You are Manik Prabhu. You are Akkalkot Swami. You are Shiradi's Sai Baba. In Kali yuga you became Nityananda.
Aaisi Aneka Rupe tu Gheshi (2x)
Ganeshpuri Tu Vasashi (2x)
Bhaktan Chya Eichya Puravishi (2x)
Balanna Bahu Aavadashi (2x)
Like this, You took many forms. You live in Ganeshpuri. You fulfil desires of your devotees (Bhakta). You are loved (most favorite of) by babies (young ones).
Sadgurunath Maharaj ki Jai!
Hail to Thee!