Nityananda Dhyana Mandir
The Dhyan Mandir consists of the main altar of Bhagwan Nityananda where regular morning and evening aratis are offered by children. Children manage all activities here – from aratis to prayers to chantings to bhajans to playing instruments to dhyan to giving prasad.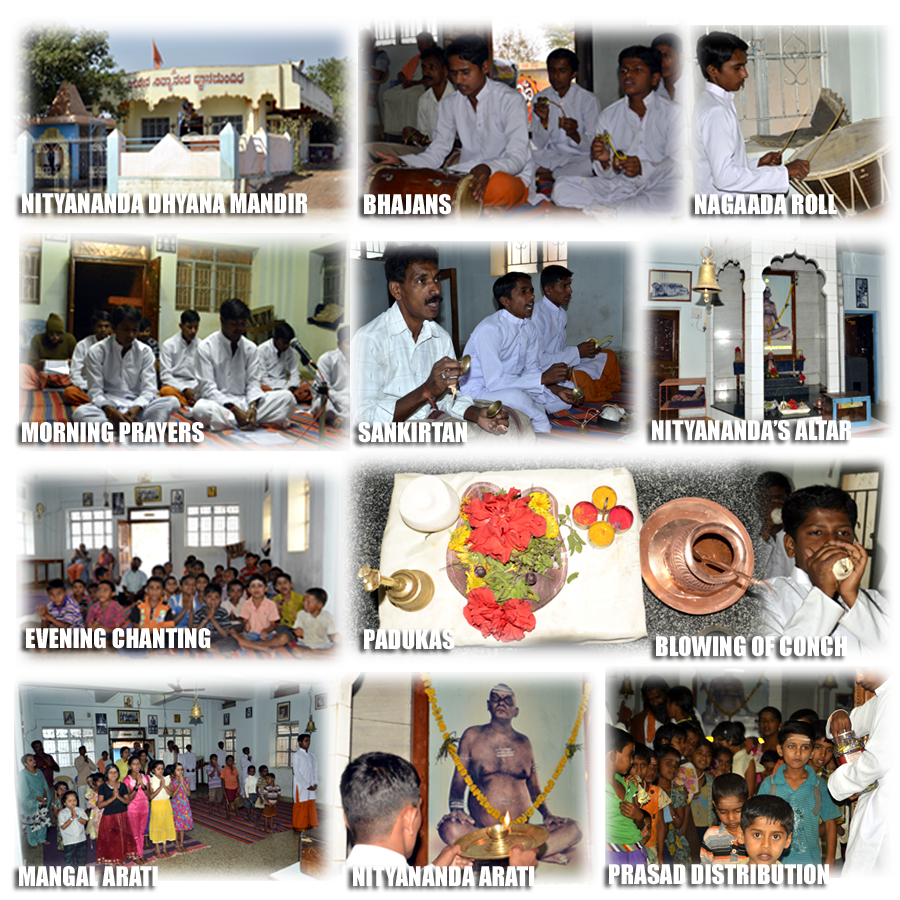 All are allowed to touch the Holy Padukas and also perform aratis and take part in active chantings without any discrimination of caste or creed, which Swamiji believes and follows as the foremost prinicple of Bhagwan Nityananda. Since Bhagwan loved children and took advised always that they be taken care of, Ananadashram gives prior most importance to this instruction in words and practice. Everyone in the Dhyan Mandir is given freedom to worship Nityananda according to their devotion. Children here do it with their utmost devotion and love for Nityananda. The Dhyana Mandir is also where these poor but divine children study and sleep and wake up at the bell of 5 a.m. to begin their day of activities till they go to sleep on floor beddings at the strike of 10 p.m.
Mukti Dham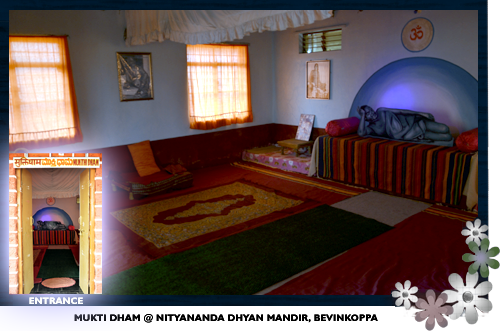 The inner view of Mukti Dham, the place of meditation in the ambience of low-lit blue light emitting from Bhagwan lying in eternal bliss on his stone bed. This was built in 2012 at the same spot where Swamiji's hut "kutir" stood for decades, which had been his place of sadhana. This hut was the ashram for many children who studied under Swamiji's guidance and help and also a place where villagers visited him to seek solace to their problems, where he prayed for them and gave ayurvedic medicines. This hut housed many photos of the Saints, Avdhoots and Siddhas that he was associated with during his sadhana period and and also a small kitchen area which was later shifted to where the dining place is now.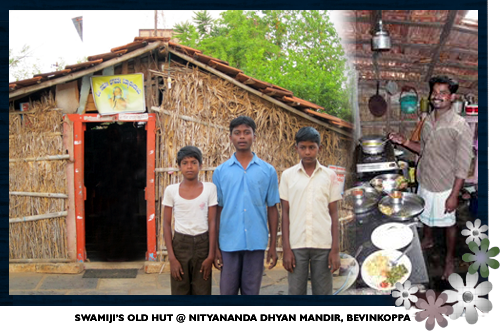 This hut had many divine incidents during Swamiji's stay. He once was was blessed with the darshan of the Divine Mother in this hut. Many cobras were spotted many times in and around it. Once a whirlwind had hit this village that was so strong that it had even picked buffaloes from one village and threw it in another. At that time Swamiji and another person were meditating in this hut when the strong wind hit this hut which lifted the walls of the hut many feet up in the air and crashed down into the same position with a bang leaving both of them unhurt. Even after the ashram had extended and other areas were built, Swamiji had left this hut as it is, until 2012 when he decided to built a larger room, meant only for meditation for all meditators. Swamiji even today prefers some of his meditation in this room.
Sumedha Muni Samadhi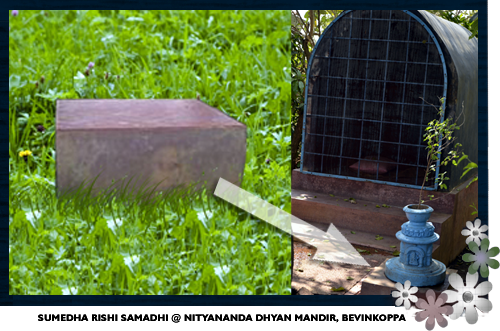 The spot is believed to be Rishi Sumedha Muni's samadhi, who wrote the "Tripura Rahasya" from Parashuram, who was taught by Lord Dattatreya. This entire place is the area of Lord Parashuram, just 30 kms away being his mother Renuka Devi's home, which has a powerful Shakti temple at the place she lived in Saundatti. The backwaters of the Malaprabha reservoir that flows from Ma Renuka Devi's temple flows very close to the ashram on the banks of which is situated the Mallikarjun temple in which there is a very ancient stone Shivalinga that was installed by Lord Parashuram. This temple is just 10 minutes walk from the ashram. (read more) The samadhi of this rishi is in the ashram premises as in the image. Swamiji has built a grotto next to it for meditation purpose that is protected by find netted wires to protect from reptiles and mosquitoes.
Nityananda Prasad Nilay – the eating place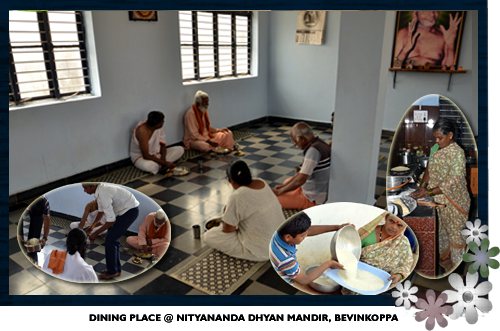 The place of prasad or the dining place of the ashram. It is a large hall where only floor mats are used so that all sit down and eat in the traditional way. It has been a regular practice of Swamiji since decades that he sit down and eat food here only along with the visitors or ashramites. The food is cooked by a village lady who is helped by the ashram children. The children serve food to the guests and have only after the guests have been served. The food prepared here is simple yet tasty and wholesome, mostly containing the south Indian breakfast like Idli, Dosa, Poha, Upma, etc and for lunch and supper, it is mostly whole wheat bread (chapatis) or jowar roti with vegetables, dal, rice and pickles. This standard food is easy for digestion with very less of spices and oil used for healthy eating.
Nitya Darshini, Brahma Vidya & Chidakash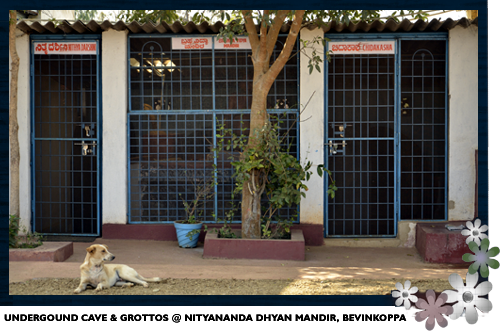 This area is the space for the underground cave, that has been named as Nitya Darshini, meaning vision of the state of Nityananda or Nitya or bliss. The space above this cave, there are 6 grottos above ground level, is named as Chidakash. The underground cave represents the going within the body (turning inwards) and the space above ground is the Chidakash or Chidambaram or the space within the head, which is the space that Bhagwan often stated that one must reside in. Resting in this space of the inner sky enables one to dig into the deeper secrets of the soul and it's creator and thus be granted the Brahma Vidya.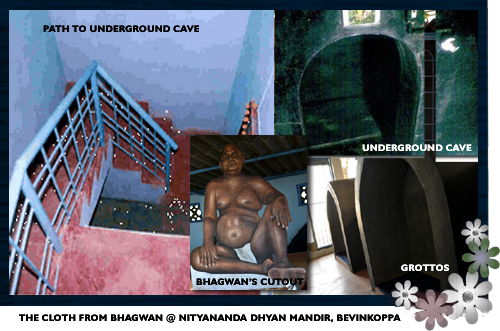 The underground cave was later created upon the instructions of a great Shaktipath Master – Swami Chaitanyanand Teerth Maharaj, disciple of Shivom Teerth Maharaj. He mentioned that according to his master there was a cave in the Himalayas which was closed off and that He would have the opportunity to build a similar cave at the right place. Swami Chaitanyanand Teerth Maharaj found there was a Samadhi of a Siddha and also that this was the place he was looking for, and he thus instructed a cave to be built, just small enough for one person to be seated. The underground cave was later visited by many Mahatmas and even today continues to be the ideal meditative location for aspirants.
Guru Vilas – the meditating place of the Guru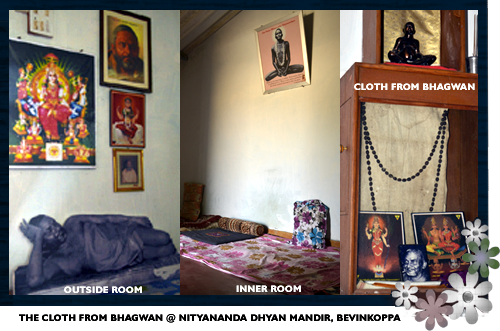 The Guru Vilas was Swamiji's earlier place of stay. This place was built after Jangli Das Maharaj had once sat here for three days in utter silence without food and water. Even after he left this place, the entire area reverberated with silence and the mind witnessed silence of thoughts. Two rooms were built here, one in which Swamiji slept and the room of silence in which Swamiji meditated for many years. Most interestingly this inner room has preserved a white piece of cotton cloth and mala (rosary beads) that was given by Bhagwan to Shri Ganesh Rao, a devotee in Mumbai, who in turn after having a dream of Bhagwan, presented it to Swamiji before he left his physical body. Swamiji speaks of many mystical experiences he has had over these years while sleeping and meditating in these rooms.
Parabrahma Nityananda Nivas & Nitya Chetana- Restrooms for visitors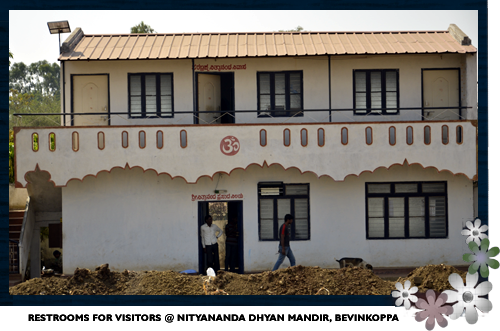 For visitors modest facility of three rooms upstairs have been provided each room that can accommodate 10 people with floor bedding. The lower space consists of the kitchen and dining space. Bathrooms and toilets are provided outside. Though the ashram has been provided with some comfort levels, still Swamiji believes that ashrams are meant to be the place of spiritual learning and sadhana. Ashrams teach in multiple ways and that is how ashrams were founded in earlier centuries. But since there is a difference between people and the way of living on that era and this era, some basic minimal comforts have been provided but taking care to preserve the vitality of the ashram space.
Balbhojan and functions area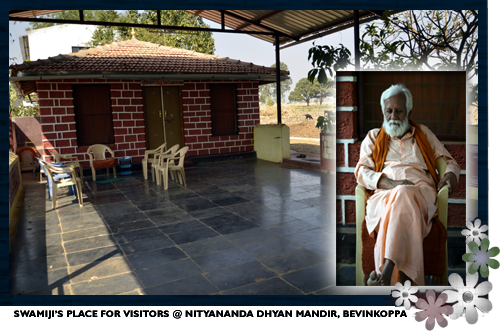 Swamiji is often found sitting at this place either reading, counselling villagers or talking with visitors. This space connects the Mukti Dham cottage seen behind to the main Dhyan Mandir Temple of Bhagwan Nityananda. This space is sometimes occupied for small functions like distribution of material or gifts to children or schools. Covered by just a simple shed with the granite floor, this space gives ample space for air and sunlight and natural relaxation for those preferring to sit on the floor.
The Kshetrapaal temples – Kaalabhairava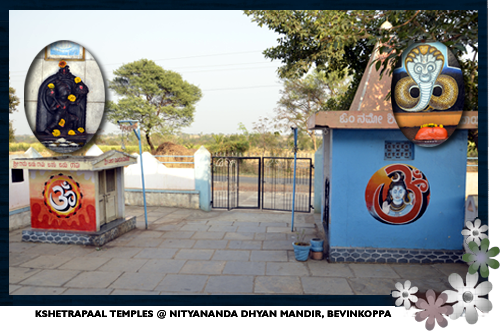 The Kshetrapal temples of both Lord Hanuman and Kaalbhairav. They are the protecting forces of this area. It was also mentioned by many Mahapurushas that this area was a Kalabhairava Kshetra (protected by Kalabhairava). Chaitanyananda Teertha Maharaj casually once entering the ashram had told Swamiji of seeing Kalabhairava standing at the entrance. Also, mentioned by Siddha Karunakar Swami, a direct disciple of Bhagwan.
The sacred Datta Audumbar (fig) Tree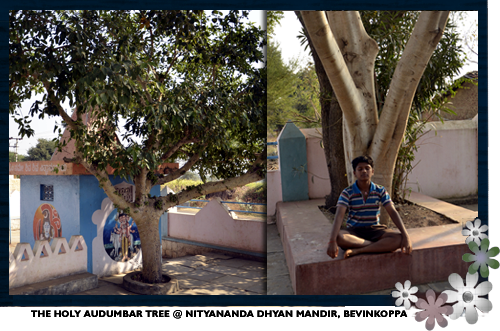 The sacred Datta Audumbar or the fig tree is just behind the Kshetrapaal temple and Swamiji believes there is a samadhi of a Siddha close to this tree. A little close to this tree is the bodhi tree that is an ideal place for meditation. In addition, the open unpolluted air and the ideal climate facilitates to make it very ideal for meditation and contemplation.
The Office & Library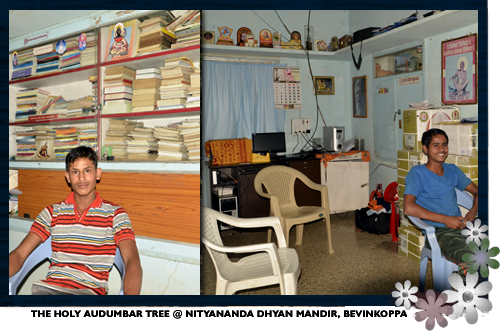 The office space of the ashram which handles all correspondence via post and internet. The place of Swamiji's literature work and data processing for publishing of his books and literature. Also houses his own as well as other spiritual books of varied interests. The desk also handles the audio system of the ashram which includes the playing of the meditation audio for the evening meditation daily.
Reaching Anandashram
Anandashram is situated in Bevinkoppa village, which is 6 kms away from the bus hub of Bailhongal town that is situated 45 Kms east of Belgaum city in Karnataka State of INDIA. Since Belgaum city is very well connected with airport, railway station and bus terminals, reaching Bailhongal is at equal ease with buses leaving Belgaum Bus Stand every 5 minutes. From Bailhongal there are buses to Bevinkoppa as per scheduled timings. The quickest source would be the regular minibus and autos running to and fro every half hour.

You may also like to read ~