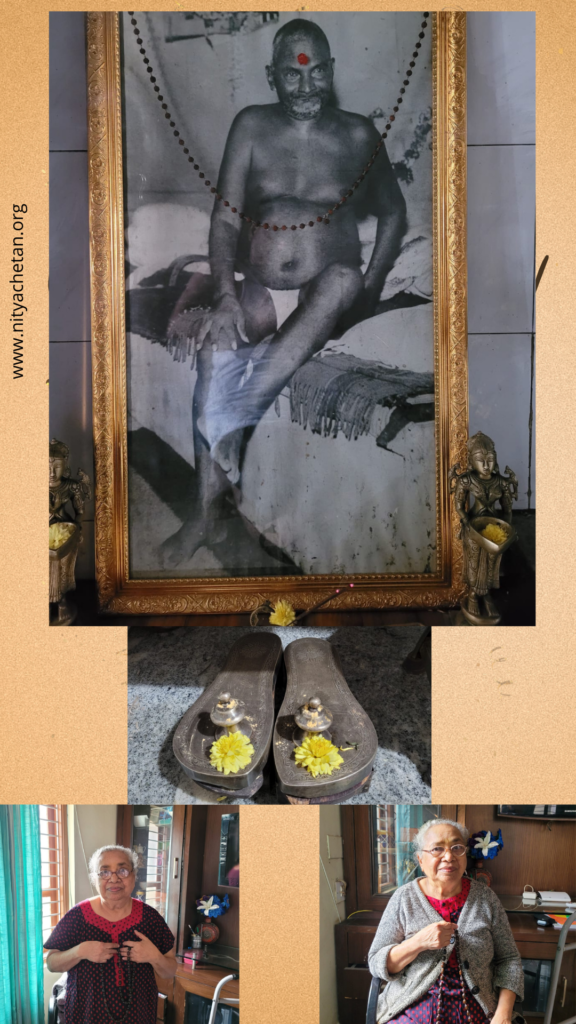 We call Nityananda as Swamy, Guru, Parashiva, Dattavatari, Avaadhoota, Bade Baba and many such names. But He is a Purna Avatar (Complete incarnation), Parabrahma. And the below incident serves as a testimony to understand Him as Parabrahma where Bhagavan Nityananda gave darshan to Mrs. Krishnabai Ammembala.
Mrs. Krishnabai is a sister of the famous actress Pandharibai of Kannada Film Industry. Her father, Rangarao, was from Theatre background and the entire family members devotees of Bhagavan Nityananda. Now she stays in Bangalore with her son-in-law, my friend, Venugopala Manjeshwara.
In his house there is a holy Paduka given by Bhagavan Nityananda. Venugopala Manjeshwara is a dear friend of mine. Accompanied by him, Pujya Krishnabai had visited our Bevinakkoppa Ashram. While meditating in our Nityananda cave, she had darshan of Lord Narasimha. She worships Lord Narasimha, and does Nityananda Namasmaran.
In December, 2021, I was to participate in a recording of the AtmaSphuran songs of Bhagavan Nityananda penned by Tulsi Mata, directed by Narasimha Nayak in Bangalore. With a desire to have darshan of the sacred Paduka of Bhagavan Nityananda at Krishnabai's house, I called up Venu Manjeshwara to inform about my visit to their home. Since I had to attend an event around same time in Nagpur, I couldn't go to Bangalore. I thought of updating Venu on changes in plan and when I called him, Mrs Krishna Bai was immersed in Dhyana holding the Japamala in hand, at that time. I however conveyed him the message and hung up. But after a while he called me back and shared an experience Mrs Krishnabai had just then where Bhagavan appeared in her Dhyana and said 'Vijayananda had told he would visit you but I am the one who is within him, within you, and in your house, isn't? I am all-pervading'.
Parabrahma Nityananda is Omnipresent, He dwells in the form of Chidakash in the hearts of his devotees, in all the souls, even in each and every particle of dust. He is Vishvatmaka. He is Purna Parabrahma who is Nitya (eternal), perpetual. And this incident is a true testament to it.
"Om Namo Bhagavate Nityanandaya" Mahamantra has such immense power.
Continued..
Swami Vijayananda,
Nityananda Dhyana Mandir
Anandashrama Bevinakoppa